The Quality of Your Life, Your Career and Your Business depends on the Quality of your Ideas - and You are just one BIG Idea away from the next breakthrough in your Career - find out how to discover Your Next BIG Idea and GROW Your Business through Ideas Management
I don't have words to describe my career turned around ever since I attended Dr Nik's session. GREAT EXPERIENCE!!!
Not only did I amplify my network, opportunities flowed in from multiple organizations. Dr Nik, taught me how to better position my skills and abilities on social platforms as well as attract prospects, I could say I am now marketable and slowly becoming a guru in my field yielding positive results.
In conclusion, sales driven organizations need to meet Dr Nik if they wish to develop their sales force into sales experts. 
- Tumelo Lottering, Commercial Sales Representative- Customer experience at SAP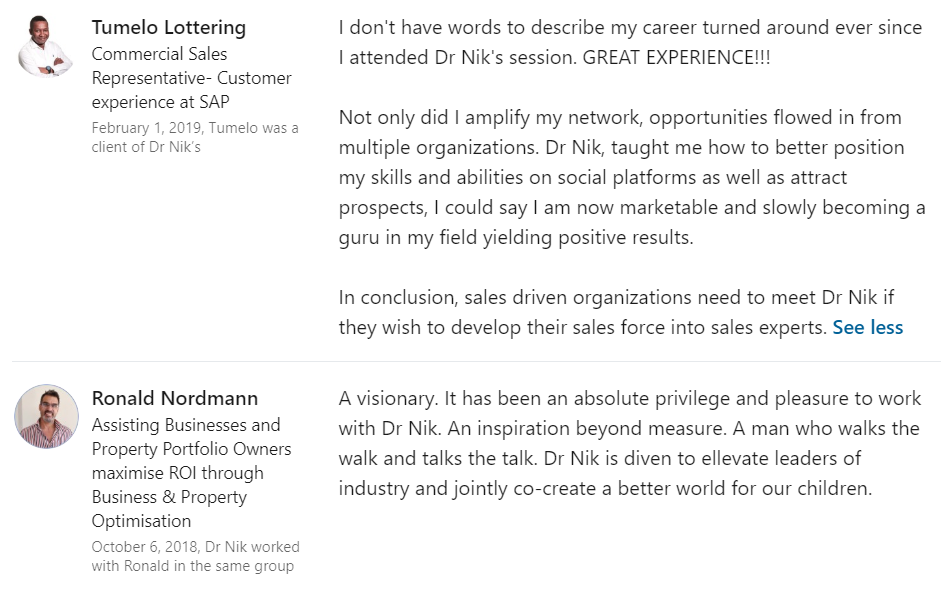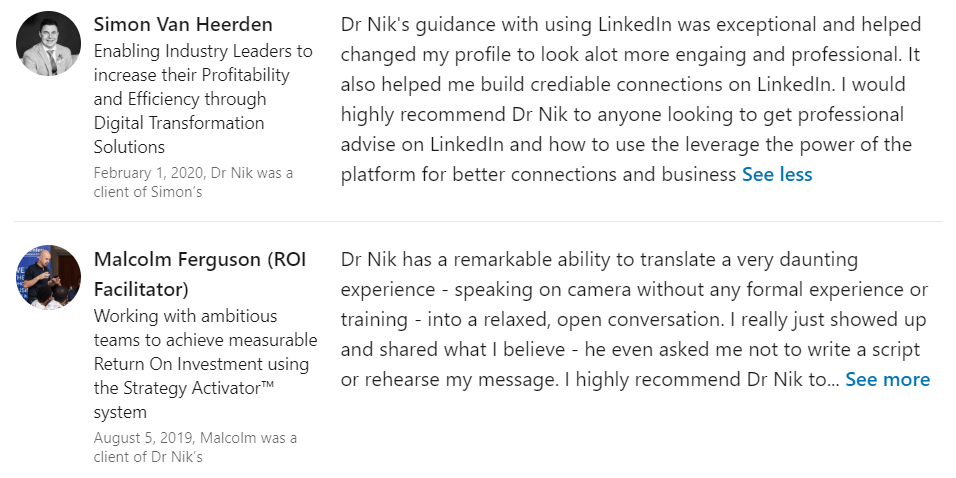 "Dr Nik's guidance with using LinkedIn was exceptional and helped changed my profile to look alot more engaing and professional. It also helped me build crediable connections on LinkedIn. I would highly recommend Dr Nik to anyone looking to get professional advise on LinkedIn and how to use the leverage the power of the platform for better connections and business."
Simon van Heerden, Sales Manager at Epic ERP
Dr Nik's Clients
Not only has Ideas Management helped Dr Nik's Clients to grow the business up to 10X, but it also enabled Dr Nik to achieve the following:
build a 𝗚𝗹𝗼𝗯𝗮𝗹 𝗠𝗲𝗱𝗶𝗮 𝗕𝗿𝗮𝗻𝗱 (on the likes of CNBC and Carte Blanche)
help South Africa achieve the 𝗛𝗶𝗴𝗵𝗲𝘀𝘁 𝗕𝗿𝗮𝗻𝗱 𝗔𝗱𝘃𝗼𝗰𝗮𝗰𝘆 𝗦𝗰𝗼𝗿𝗲 in the history of the FIFA World Cup (92%)
develop Strategic Relationships with Global Leaders, 𝗶𝗻𝗰𝗹𝘂𝗱𝗶𝗻𝗴 𝗮 𝗦𝘁𝗮𝘁𝗲 𝗣𝗿𝗲𝘀𝗶𝗱𝗲𝗻𝘁, Olympian Athlete and one of the most celebrated World Record Holders
enable a Consulting Client of mine to grow their Business 𝟭𝟬𝗫 𝗼𝘃𝗲𝗿 𝟭𝟬 𝗬𝗲𝗮𝗿𝘀
propel his FIFA World Cup Book to Bestseller Status with ½ 𝗠𝗶𝗹𝗹𝗶𝗼𝗻 𝗖𝗼𝗽𝗶𝗲𝘀 in Print
Dr Nik has been featured extensively on
CNBC Africa (co-hosted the World Cup Business Show for three years),
Business Day (authored the World Cup Column for 34 months),
Carte Blanche (5 appearances),
eNCA (12 appearances),
SABC (27 appearances) and
Al Jazeera, BBC and ETV
And Dr Nik's LinkedIn Leadership Channel earned 7.5 Million Content Views in 2019